Congratulations to those whose numbers were chosen yesterday for the Waitlist for the 48 affordable units with the Downing Sq. Broadway Initiative
Applications were accepted through June 11th, 2021. Winning numbers for the 48 affordable apartments were drawn by Lottery on June 15th, 2021 at 4 p.m. EST. 
If your Number was chosen for the Waitlist, you will be notified by Mail very soon. The Lottery list will be posted on the office door of Housing Corporation of Arlington, 252 Massachusetts Avenue, Arlington, M.A. 02474.
To view the results of the Lottery and see if your number was chosen for the Waitlist, please click the link below (in .pdf format):
Lottery results for Waitlist for Downing Sq. Broadway Initiative (courtesy of andapm.com).
For all the information you need to know about the buildings, click on the following link:

ArlingtonEATS is well on its way to raising all funding for its new space at 117 Broadway! ArlingtonEATS will open the space at the newly constructed Housing Corporation of Arlington's building. We will reopen with more hours and additional services beyond addressing food insecurity, and all under one roof. Both HCA and ArlingtonEATS are thrilled with this new partnership and look forward to serving you, the community, in new and innovative ways. Stay tuned for the opening date of EATS expansion!
Pictured: ArlingtonEATS Executive Director Andi Doane (LEFT) receiving a $2,500 check from Manny Bolivar (RIGHT) of Cambridge Savings Bank in Arlington, in front of the Broadway construction site
For more information on the Broadway construction project, please visit our Broadway page!
Public Involvement Plan Meeting on June 3, 2021
A Public Involvement Plan (PIP) pursuant meeting to the Massachusetts Contingency Plan (MCP) was
held on June 3, 2021 at 6:30 pm for the Former Roswell's Welding Site, 19 Rear Park Avenue, Arlington,
Massachusetts (RTN 3-24864). Due to the COVID-19 pandemic, the meeting was held virtually, via
Zoom.
For meeting minutes, click here 
To look at the slides from the PIP meeting, reference the Powerpoint slides below:
Announcing the new hotline for Arlington EATS!
                       HOTLINE NUMBER CHANGE!!!
Starting October 19th, the Arlington EATS Food Request Hotline number will change to: 
                                   339-707-6761
As of Oct. 19th, Arlington EATS' volunteers will staff the food hotline instead of the Council on Aging. The new food hotline number for all Arlington residents is:  339-707-6761. People seeking food should leave a voicemail requesting food and they will receive a return call from an EATS volunteer who will complete the order form online for the customer while on the phone.
The Parade on Wheels for Affordable Housing!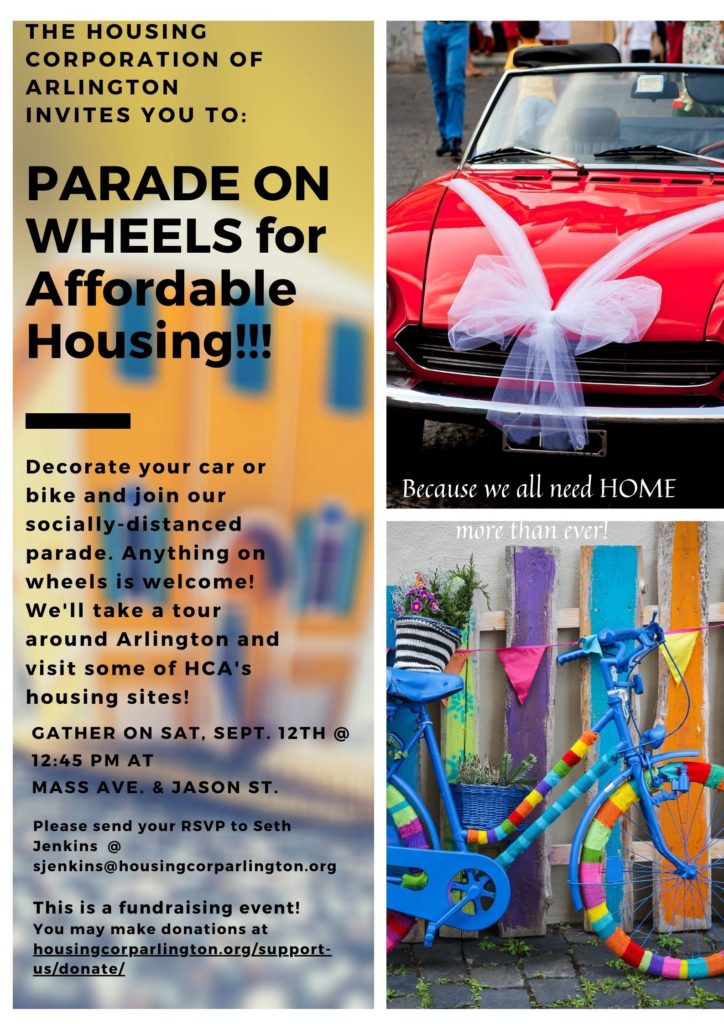 Since Housing Corporation of Arlington could not do our annual Walk for Affordable Housing, we instead did an all-new type of Fundraiser on September 12th: THE PARADE ON WHEELS FOR AFFORDABLE HOUSING!
We traveled on bikes and in cars around the HCA properties to celebrate affordable housing.
To see pictures and video of the event, visit our site for the Parade!

The Town of Arlington is reminding every one to #CoverYourFace (Go to arlingtonma.gov/covid19 for info and updates on COVID-19)
 Courtesy of the CDC:  Mental health and coping during COVID-19. 
Things you can do to support yourself: 
Avoid excessive exposure to media coverage of COVID-19.

 

Take care of your body. Take deep breaths, stretch or meditate. Try to eat healthy, well-balanced meals, exercise regularly, get plenty of sleep and avoid alcohol and drugs.

 

Make time to unwind and remind yourself that strong feelings will fade. Take breaks from watching, reading, or listening to news stories. It can be upsetting to hear about the crisis and see images repeatedly. Try to do some other activities you enjoy

to return

to your normal life.

 

Connect with others. Share your concerns and how you are feeling with a friend or family member. Maintain healthy relationships.

 

Maintain a sense of hope and positive thinking.

 
*To HCA Tenants

:

HCA will not be pursuing evictions due to COVID-19 for the next several months. W

e are looking for additional funding to provide more rental assistance

through our Homelessness Prevention Program.
Information & Resources for Arlington Residents in Response to COVID-19
(Updated 7/9/2020)
HEALTH
–If you think you are experiencing symptoms of COVID-19, it is recommended that you contact your health provider. 
–COVID-19 Drive-thru Testing at AFC Urgent Care, 1398 Massachusetts Ave, Arlington 
MUST call ahead to be pre-screened: 781-648-4572 
https://www.afcurgentcarearlington.com/   
–Guidance from the CDC (Center for Disease Control) 
https://www.cdc.gov/coronavirus/2019-ncov/faq.html 
–For information on proper hygiene and other guidance to take the during COVID situation, feel free to look at our helpful .pdfs (courtesy of Lahey Health)
FOOD
–Arlington EATS 
Arlington EATS and the Town of Arlington will be delivering shelf stable food to any Arlington resident in need. 
To receive food: 
As of Oct. 19th, Arlington EATS' volunteers will staff the food hotline instead of the Council on Aging. The new food hotline number for all Arlington residents is: 339-707-6761. People seeking food should leave a voicemail requesting food and they will receive a return call from an EATS volunteer who will complete the order form online for the customer while on the phone.
EATS customers may also access the order form directly at arlingtoneats.org/requestfood.
If you have any questions, please contact Jane Biondi at jbiondi@arlingtoneats.org or Susan Dorson, EATS' Program Manager, sdorson@arlingtoneats.org.
–Mystic Community Market- 291 Mystic Avenue Medford, MA 02155 
Please call before going to inquire about hours and availability: (617) 629-5120 
–SNAP application assistance: Call Council on Aging (all ages) 781-316-3400 
–National School Lunch Program: The State of Massachusetts has received additional funding to provide households with school aged children additional P-EBT funds for each student, amounting to $5.70 per student, per school day. You can learn more here.
–Statewide Food Resources: You can find a list of available food resources by  region here and a list of statewide nutrition access for aging and disability services here.
INCOME & EMPLOYMENT
–United Way of Mass Bay and Merrimac Valley COVID-19 Economic Relief Fund 
A network of 20 community partner agencies in Massachusetts and southern New Hampshire will help administer the fund, which will provide a one-time grant of $2,000 to help families pay for rent, bills and food. Call 1-877-211-6277 and provide your zip code and you will be provided with a list of agencies who can assist you. 
–Coronavirus Stimulus Payments from the federal government are scheduled to begin going out to eligible Americans in April, and will continue to roll out in upcoming weeks due to the amount of recipients.  
If eligible, individuals will receive up to $1,200, married couples will get up to $2,400 and $500 will be added for every child. 
 https://www.washingtonpost.com/graphics/business/coronavirus-stimulus-check-calculator/
–Notification on Pre-Paid Debit Cards for Stimulus Payments (information courtesy of the Town of Arlington)  
For those who haven't yet received their stimulus check, you are eligible for an Economic Impact Payment (also known as a Stimulus Check) please know that you MAY be receiving your payment not as a paper check, but through a Pre-Paid Debit Card.  It looks like a credit card and is in an envelope from Meta Bank or Money Network Cardholder Services. Do not throw it away. You can use the card to buy items in stores or to get money out of an ATM machine at a bank.
If you receive one of these cards, you must first activate your card, by phone or online, before you can use it. The activation telephone number is 800-240-8100. You will need to need to provide your name, address and Social Security number to validate your identity.  You'll also need to create a four-digit PIN so you can get cash at the ATM.
If you need help with your Economic Impact Payment DEBIT CARD call the Council on Aging at 781-316-3400 and leave a message. We will call you back within one business day.
–Assistance Applying for Unemployment: 
https://www.mass.gov/applying-for-unemployment-benefits 
The CARES Act authorizes an additional $600 to the weekly benefits received by traditional unemployment claimants, retroactive to March 29, 2020. DUA is also implementing the 13-week extension of benefits to UI claimants as quickly as possible.

The federal government has also recently issued additional guidance on Pandemic Unemployment Assistance, that makes unemployment benefits available to individuals who are self-employed, have exhausted their regular unemployment benefits, are not financially eligible for regular unemployment benefits, and others not traditionally covered under the regular unemployment program. The application is not available at this time, but DUA is working to make it available as quickly as possible.
-Unemployment Assistance
If you have questions about Unemployment you can refer to:
https://www.mass.gov/orgs/department-of-unemployment-assistance
The Department of Unemployment has put together Virtual Town Halls:
https://www.mass.gov/forms/massachusetts-department-of-unemployment-assistance-dua-virtual-town-halls
 –Veterans unemployed due to COVID-19 pandemic  
Contact: Jeff Chunglo, Veteran Affairs, jchunglo@town.arlington.ma.us (781) 316-3166 
–MassHire Metro North Career Centers are providing services remotely.  Customers can call 617-661-7867 and leave a message or through this link https://masshiremncareers.com/contact/ . 
-Job postings are updated every Monday:
https://masshiremncareers.com/wp-content/uploads/job-postings-links-v2-2.pdf
-For customers without internet, language barriers or other things that cannot be resolved online:  877-626-8700
HOUSING
–The COVID-19 Rental Assistance for Families in Transition, or RAFT, will be set up to keep households in stable situations from facing housing emergencies over the loss of income, an increase in expenses or both. 
Households experiencing rent insecurity due to the impacts of COVID-19 will be able to apply for financial assistance of up to $4,000. Residents can apply here: 
https://www.waitlistcheck.com/application/form.php?ID=MA2977&WL=1914 
RAFT has a new program called ERMA. ERMA is a state resource fund to help households with incomes of up to 80 percent of the area median. For more info, and to APPLY for both RAFT and ERMA, click on the link below:
RAFT & ERMA Application and Info
–Housing Corporation of Arlington– Homelessness Prevention Program 
Assistance with back rent, moving expenses, or security deposit ($1500 max) to eligible households.   https://housingcorparlington.org/homelessness-prevention/  
–Housing Stability for Vulnerable Populations:  The Baker-Polito Administration announced steps to keep vulnerable families in their homes, preserve the health and safety of low-income renters and homeowners, and prevent homelessness due to reduced or lost income. Read more  here: https://www.macdc.org/housing-stability-vulnerable-populations 
–The Department of Housing and Community Development released this  memo  aimed at Local Housing Authorities. The memo contains information on lowering tenants' rents due to decreased work hours etc. LHAs are encouraged to be "lenient" with documentation. 
-On Monday, 4/23, the Governor signed into law An Act Providing for a Moratorium on Evictions & Foreclosures During the COVID-19 Emergency. Here is a link to the actual language and a graphic summary. Take note of the definition of a "non-essential eviction," as some evictions can still go forward.
-For a helpful graphic all about the Moratorium, courtesy of CHAPA and Boston Legal Services, click here.
The Moratorium is expected to remain in effect until August 18, 2020, or 45 days after the State of Emergency is lifted, whichever occurs first. Note that Governor Baker may extend the Moratorium at that time.
-Assistance Tip: Avoid penalties for missed rent payments
In order to avoid late fees and reports to consumer reporting agencies for missed rent payments due to COVID-19, you must inform your landlord within 30 days of the non-payment that it was because of COVID-19. The State's website has forms that both residential and commercial tenants can use to inform their landlord or to use as a guide to write their own letter.
–CHAPA: Affordable Housing Updates can be found here: 
https://www.chapa.org/housing-news/covid-19-affordable-housing-updates 
OTHER RESOURCES
–Town of Arlington Coronavirus Advisories (updated every few days) 
https://www.arlingtonma.gov/departments/health-human-services/health-department/coronavirus-information 
-Seniors-only (60 and older) Early Shopping Hours at Grocery Stores 
Stop and Shop 6:00AM-7:30AM daily  
Whole Foods Markets and Target stores will open up an hour early (8:00am)  
Select Traders Joe's stores will open early for seniors and are limiting the number of people who can enter at a time. 
Walmart has now added a special hour every day for curbside pick-up by car for those most vulnerable to COVID-19, including frontline workers and Seniors (age 60 and over). The time is 7-8 a.m.
–Internet Essentials by Comcast: Free Internet for 60 days (if eligible) 
After 60 days you must cancel or be charged $9.95 per month 
https://www.internetessentials.com/covid19 
–Caregiver Emotional & Educational Support Resources:

–Parents Helping Parents:  Parental Stress Line 24/7 – 1.800.632.8188 
–Samaritans (of Boston) Hotline 1-877-870-HOPE (4673) –– Call or Text 24/7 
-Arlington Council on Aging:  Telephone Call Reassurance Program. If you know of an older adult in Arlington who could benefit from a weekly phone call, call 781-316-3400 and leave a message 
–Arlington now has a mutual aid organization called Arlington Helps, which is a local neighborhood collective that is helping with needs during the COVID-19 crisis including: the purchasing and distribution of groceries, medicines, face masks, as well as helping with direct requests for financial support.
To contact Arlington Helps, you can call their hotline at (339) 707-0547. Be on the look out around town for their flyers!
–Remote learning with Khan Academy:  Khan Academy has daily live streams for parents, and teachers navigating school closures, as well as guides for parents and teachers facilitating online learning. Learn more  here. 
–Robbins Library: Get an e-card online instantly (no ID or proof of address required), and access free ebooks, audiobooks, movies, and more. Visit robbinslibrary.org  
–Domestic Violence Resources  
Arlington police remind residents that resources remain available for those who may be experiencing domestic violence during the Covid-19 pandemic. 
SafeLink is Massachusetts' statewide 24/7 toll-free, multilingual hot line and a resource for anyone affected by domestic violence: Call 877-785-2020. 
As always, please call 911 in an emergency. 
STATEWIDE INFORMATION
–INFORMATION HOTLINE FOR QUESTIONS ABOUT COVID-19: Call Massachusetts 2-1-1 or visit the website at https://mass211.org/
You can also now sign up to get text updates from the state's coronavirus response team by texting  COVIDMA to 888-777. 
–COVID-19 Guidance from the Department of Public Health  
https://www.mass.gov/info-details/covid-19-guidance-and-directives 
–Department of Public Utilities  Orders Moratorium on Utility Shut Offs
On March 13, the Department of Public Utilities (DPU) issued a moratorium on the shutting off of residential utilities while the COVID-19 state of emergency remains declared.
-Resources for Frontline Workers: This week the Attorney General's Office launched frontlinema.org, a website where frontline workers can find a variety of information and resources. The website has information on personal protection equipment access, emergency childcare, priority testing, and more.  
-CASLS remains open to assist low income residents in Arlington on legal issues relating to housing and state and federal benefits (and our Boston office remains open for legal issues relating to family law, immigration, employment, and consumer).  Most staff is working remotely but if any of your tenants, or anyone in the community, is seeking legal help in one of these areas, they can call us at 617-603-2700 and leave a voice mail message.  Calls are promptly returned during normal business hours, with advice and/or referrals provided at a minimum.  You can also check masslegalservices.org for helpful information related to COVID-19.
–The application for Pandemic Unemployment Assistance, which covers workers not normally eligible for unemployment like freelancers, gig workers, artists, and the self-employed is now up on the State's website. You should apply for Pandemic Unemployment Assistance retroactive to your first week of total or partial unemployment.
Downing Square-Broadway Initiative Progress Update:
Latest planning meeting minutes: Meeting Minutes 7/11/19

The award received today from the Commonwealth's Department of Housing and Community Development for HCA's Downing Square Broadway Initiative Project was presented by Lt. Governor Polito and Secretary Kennealy of Housing and Economic Development. These funds in conjunction with the local funding received through the CDBG and CPA funding from the Town of Arlington and the local HOME funding from the North Suburban Consortium through the Malden Redevelopment Authority and a private first mortgage will fully fund the project. Remediation has begun at the 19 Park Ave. site.