Create and sustain affordable homes, help local families remain stable, and develop leaders who advance a better Arlington for all.
Donation of $1,000 or more qualify for a 50% rebate through the CITC Program. Give $1,000, get $500 back. Give $10,000, get $5,000 back. Learn more here.
When you give to HCA you also become a member!  HCA members can vote to elect HCA's Board of Directors and to change bylaws.
In 2023 the need has risen and HCA's costs have risen. We are asking donors who have contributed before to consider increasing your gift by 20% this year. Thank you.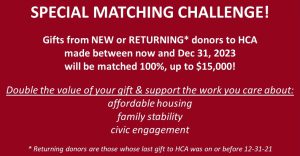 ————-
HCA is a 501(c)(3) nonprofit organization. Donations to HCA are tax exempt to the fullest extent of the law.
THANK YOU! WE APPRECIATE YOU.