THANKS FOR A GREAT EVENT!
On May 21st, 2023, a gloriously sunny day, HCA members reconnected, enjoyed great music, helped to raise funds, and brought attention to HCA's work and the continued need for affordable housing during a walk along Mass Ave!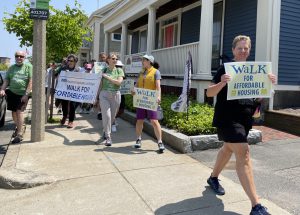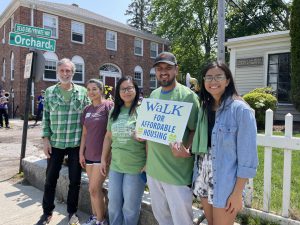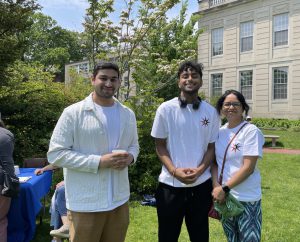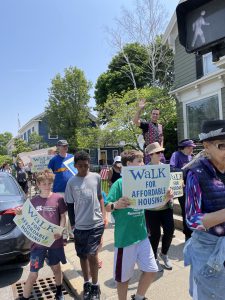 This community event was free for all and included food, music, raffles, and an approximate 3-mile walk, with an option for a shorter route. Everyone who participated got to take a walk t-shirt!
Accompanied in 2023 year by:
&

stiltwalker Sir Danny Drake

Thank you to our Sponsors:
Heroes:
Brookline Bank
Cambridge Savings Bank
Partners:
East Cambridge Savings Bank
Leader Bank
Supporters:
Calvary Church
Carney General Contracting
Davis Square Architects
Eagle Bank
Eastern Bank
Feinmann, Inc.
First Parish Church of Arlington
Merchants Capital
The Life Initiative
Watertown Savings Bank
Winchester Savings Bank
Friends:
Advisors Living Real Estate
Arlex Oil Corporation
Belmont Printing
First Baptist Church of Arlington
Peabody Properties
Rush-Kent Insurance Agency, a World Company
St. John's Episcopal Church
Yes! Your Eco Source
Check out these Raffle Items:
(& thanks to the raffle donors!)
Arlington Bakery gift certificate
Arlington Paper Pieces artwork by Abigail McMurray
Blue Ribbon BBQ gift certificate
Book Rack gift certificate
Capitol Theatre & Somerville Theatre movie tickets
Cookie Time Bakery gift certificates
Henry Bear's Park gift certificate
Quebrada gift certificate for 6-inch cake
Murray Muscular Therapy Associates gift certificate
Playtime Crafts gift certificate
Red Sox Memorabilia: Autographed Photo of Pitcher Tanner Houk
Roasted Granola gift certificate
Tickets to the June 29th Red Sox vs. Marlins game donated by Winchester Savings Bank
Vincent's Barber Shop gift certificate
Stop & Shop Gift Card donated by First Baptist Church of Arlington
Yes! Your Eco Source products bag
Questions? Contact Erica Schwarz:
ESchwarz@HousingCorpArlington.org
781-859-5294 x1