Sunday, April 30, 2017 from 12:00-3:00 pm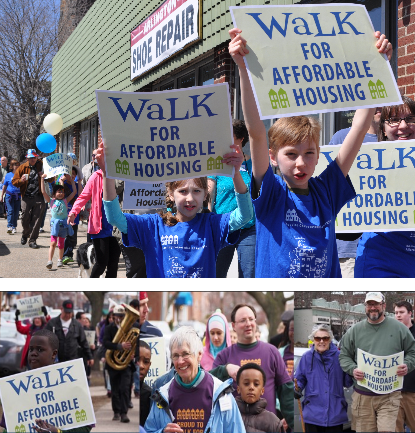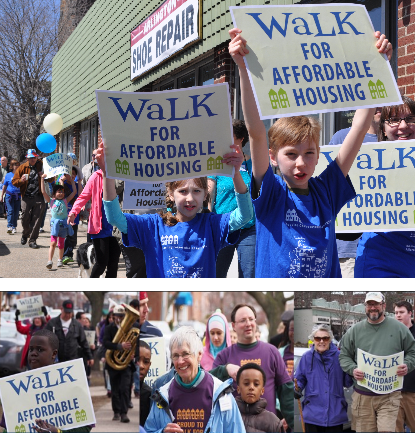 Join us, walk with us in unity.

Make a secure donation for the Walk (below)
Ask your employer to match your donation!
Purchase Raffle tickets before the event (below)
Spread the word! Engage your family & friends to support our cause!
Outreach! Share this page via social media, e-mail, or text
Bring the whole family! Greater crowd = Greater awareness!
Businesses! Contact us to donate a gift-in-kind for our raffle!
This year we are very proud to announce Cambridge Savings Bank, Winchester Co-operative Bank, and Leader Bank as our lead sponsors!  Raffle prizes to be won include $100 gift cards to Legal Seafood, passes to the Aquarium, toys, fitness classes, massages, pet care, and a wide variety of gift certificates from local businesses including Scutra, Not Your Average Joe's, Quadcycles, The Regent Theatre, Swanson Jewelers, The Book Rack, and many more!
With our walk the community has the opportunity to learn more about the dramatic need for affordable housing in Arlington. The Walk begins and ends at the Jason Russell House, 7 Jason Street, where the lawn is the setting for pre- and post-walk festivities. Money raised goes to support HCA's Affordable Housing and Homelessness Prevention Programs which work to assure that low- to moderate-income residents have access to safe and affordable housing.
Last year's event was a wonderful community celebration where over 70 walkers raised more than $32,000 to assure that HCA's housing programs remain vital.  This year HCA aims to raise upwards of $40,000 in support of the 57 units in our current development pipeline.
The pre-walk gathering provides community members a chance to mingle, to listen to the Stanley & The Undercovers, The Hot Tamale Brass Band, be entertained by Chuckles the Clown, face painting, the balloon man, and other carnival treats. Participants enjoy treats donated by Whole Foods, Andrina's Pizzeria, Not Your Average Joe's, Starbucks, and more.
Most important, the community has the opportunity to learn more about the dramatic need for affordable housing in Arlington. Then, with the band playing, the whole group walks down Mass Ave wearing our matching participant t-shirts, holding signs advocating for affordable housing. The walk will continue through downtown Arlington to HCA's Capitol Square development at 252 Mass Ave and back, exactly 2 miles round-trip. Along the way, neighborhood churches provide water stops for thirsty walkers!  When we return, attendees can win terrific raffle prizes! such as a $100 gift certificate to Legal Seafood, an acupuncture treatment, a fitness class, playtime creative arts session, toys, Red Sox autographed items, passes to the Aquarium and many other wonderful gift certificates.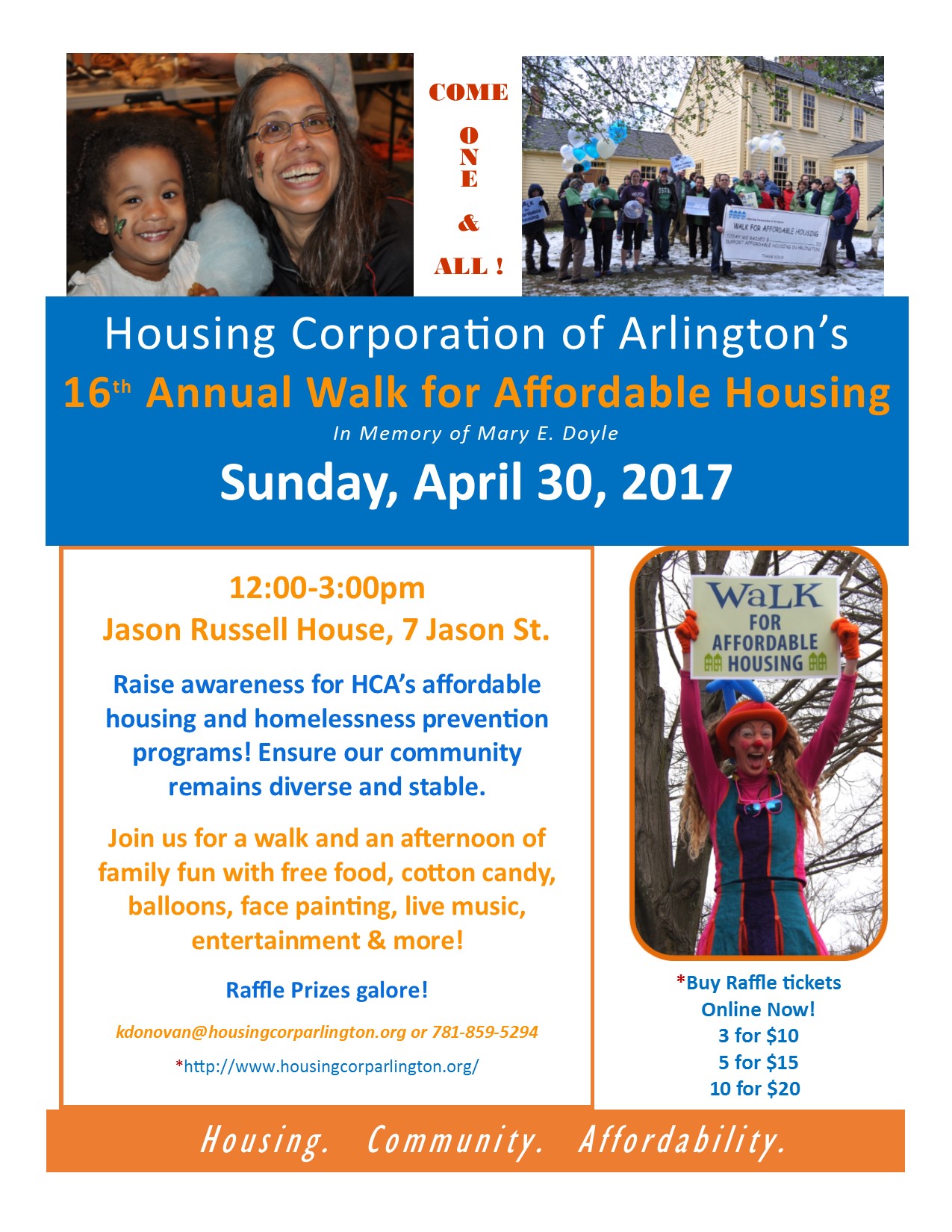 _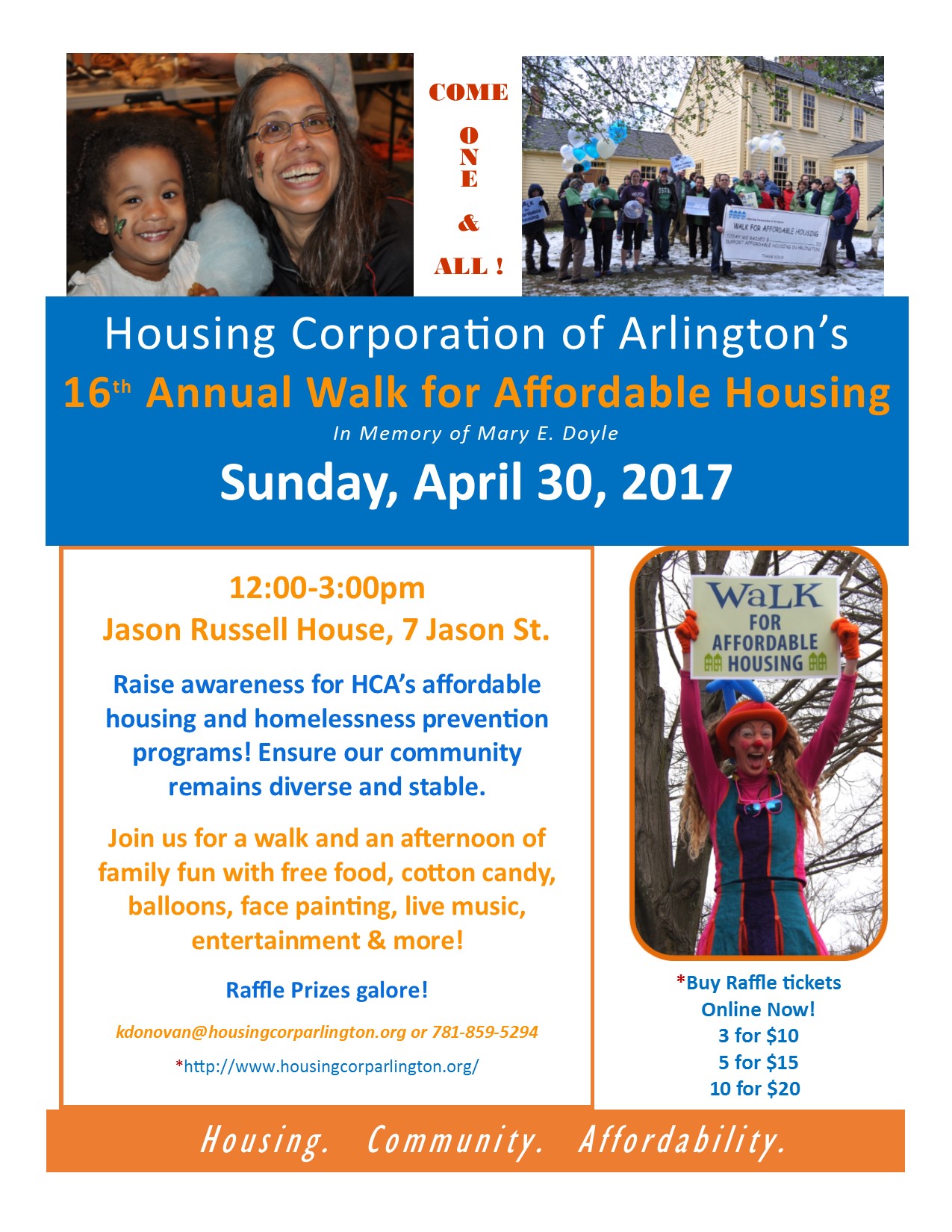 Below is a slideshow from our previous Walks!