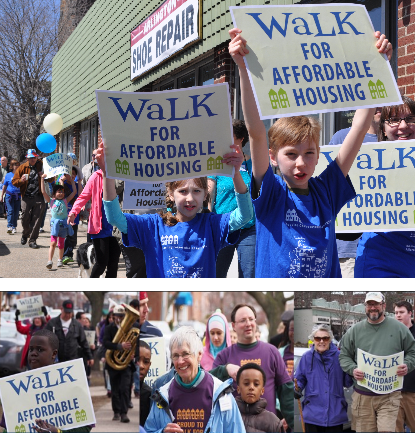 You joined us, you walked with us.
Thank you!

The 16th Annual Walk for Affordable Housing in Memory of Mary Doyle was a wonderful community celebration where over 122 participants raised more than $36,000 to assure that HCA's housing programs remain vital!
Money raised goes to support HCA's Affordable Housing and Homelessness Prevention Programs which work to assure that low- to moderate-income residents have access to safe and affordable housing.

A very special thanks to all of our sponsors and supporters!
Lead Sponsors:
Partner Sponsor:

Supporters:
Friends:
Gift In Kind Donors:
Alton Street Boxing & Fitness,   Andrina's Pizza,   Artbeat,   Artwear,   Blue Ribbon BBQ,   Drum Connection,   El Tango,   Fitness First, FoodLink,   Giles Fine Wines,   Gold's Gym,   Henry Bear's Park,   Hot Tamale Brass Band,   Jacqui's Design Group,   Kate Ruma & Associates Acupuncture,   Lakota Bakery,   Little Q Hotpot,   Lynn & Jen's Dance Studio,   Maxima Gift Center,   Menotomy Beer & Wine,   Menotomy Grill & Tavern,   Molly the Clown,   Mosaic Oasis,   Murray Muscular Therapy Associates,   My Brother's Place,   New England Aquarium,   New England Photo,   No Worries Pet Care,   Northender Italian Kitchen,   Not Your Average Joe's,   Nurturing Spaces,   Olympic Pizza,   Playtime, Inc, Quadcycles,   Quebrada Baking Company,   Scutra,   St. John's Coffeehouse Concerts,   Stanley & The Undercovers,   Starbucks,   Stone Meadow Golf,   Stop & Shop,   Swanson Jewelers,   Szechuan Dumpling, Taylor Rental,   The Book Rack,   The Boston Red Sox,   The Dark Horse Public House,   The Flatbread Company,   The Regent Theatre,   Trader Joe's,   Unleashed by Petco,   Za,   Zhen Ren Chuan
Below is a slideshow from our previous Walks!