20 Westminster:
In March 2014, HCA purchased 20 Westminster Ave, Arlington MA, and began construction in the summer of 2017. Today, HCA is about 70% complete with the project which will add 9 units and 17,870 square feet of land to the affordable housing stock of the State Housing Inventory of Arlington. The redevelopment is based on the existing floor plan with 1 three-bedroom unit, 2 two-bedroom units, 5 one-bedroom units, and 1 studio. Three of the units will be wheelchair accessible. The open green space at the front of the building will become a perennial garden and may include art from local artists. HCA will begin renting from the property this fall, so be sure to look for announcements about a ribbon cutting ceremony!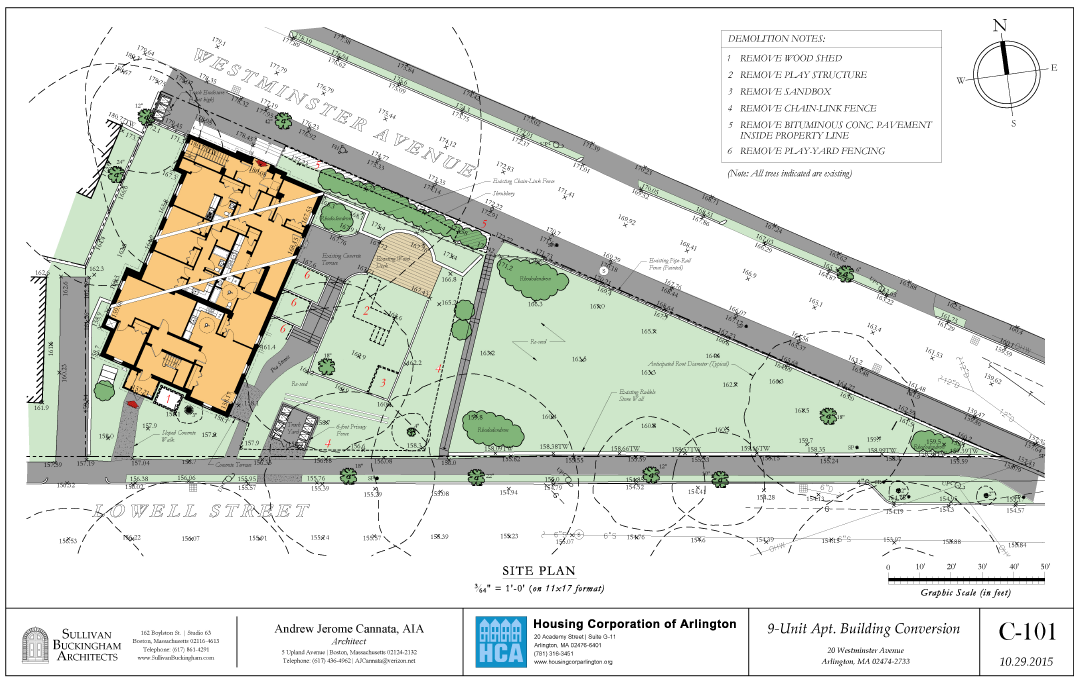 Downing Square – Broadway Initiative: 19R Park Ave & 117 Broadway (Arlington Food Pantry, Food Link)
HCA is in the final stages of planning the Downing Square – Broadway Initiative project which includes property at 19R Park Avenue and 117 Broadway that together will be turned into three buildings with 48 affordable units. The project is fully funded, and we are in the final stages of negotiating the contract with a committed contractor. We anticipate a financial closing in the fall of 2019 and construction will commence immediately afterwards.
Click here to view the Final Public Involvement Plan
Click here to view the Phase IV Implementation Plan
Click here to view the Phase IV Meeting Power Point Presentation
Click here to view the 7/11/19 planning meeting minutes
Downing Square, 19R Park Ave:
HCA purchased the one-acre parcel at 19R Park Ave in Arlington in August 2016. The site is located behind the CITGO station at the intersection of Park Ave and Lowell Street and stretches back from Lowell Street to the Minuteman Bike Path. This project includes two buildings, one facing the bike path running East to West and one at the corner of Lowell Street and Park Avenue. The projects proximity to the bike path highlights its goal of being transit oriented. HCA's proposed project will include environmental clean-up of the lot and the development of 34 units affordable to households earning 60% or less of the area median income. The larger building will be a four-story elevator structure with 28 units. The smaller building will be a 6-unit three-story walk-up. The total unit mix will be 15 one-, 14 two-, and 5 three-bedroom units. Both buildings are designed to be as close to net zero energy as possible.
Click here to view the plans for Downing Sq.
117 Broadway: Arlington Food Pantry, Food Link:
This site was purchased by HCA in September 2014 and currently houses Food Link. We plan to construct a four-story mixed-use elevator building with 2593 square feet of retail space facing Broadway and Everett Street on the first floor and 14 affordable rental units on the three floors above. The unit mix is 2 one-bedroom units, 10 two-bedroom units and 2 three-bedroom units. There will be 17 parking spaces accessible from Everett Street.  The site overlooks Lussiano Field in the rear and the Thompson School beyond. Like with 19R Park Ave buildings, we will use energy efficient utilities and appliances to pursue our goal of as close to net zero emissions as possible. The units will be rented to households making 60% or less of area median income.
This property is also transit-oriented with three bus lines along Broadway. One line goes to Medford, one to Cambridge, and one to Alewife. Massachusetts Ave is two blocks away with three additional bus lines: the 77 to Harvard Square, the 79 to Alewife, and the 350 to Alewife.
Food Link will stay at 117 Broadway for a few months after the development is complete. Once they move to a new location, Lets Eat market will inhabit the first-floor retail space.