As a designated Community Partner, HCA has been awarded a new allocation of $150,000 in state tax credits for the 2018 tax year that are available to taxpayers making qualified cash investments of $1,000 or more. Tax credits are issued at a rate of 50% of the qualified investments. For example: a $1,000 donation generates $500 in state tax credits and the full donation can be claimed as a deduction on your Federal taxes.  So, for a person in the 33% tax bracket, the actual out of pocket cost of a $1,000 donation is only about $250.
The Community Investment Tax Credit (CITC) program is designed to enable local residents and stakeholders to work with and through community development corporations (CDCs) to partner with nonprofit, public, and private entities to improve economic opportunities for low and moderate income households and other residents across the Commonwealth. For HCA, this includes new affordable housing development as well as staff education and training.
(CITC) was created by Chapter 238 of the Acts of 2012.The Commonwealth's Department of Housing and Community Development (DHCD) is the administering agency. CITC requirements are set forth in Chapter 62 Section 6M and Chapter 63 Section 38EE;760 CMR 68.00 and 830 CMR 62.6M.1.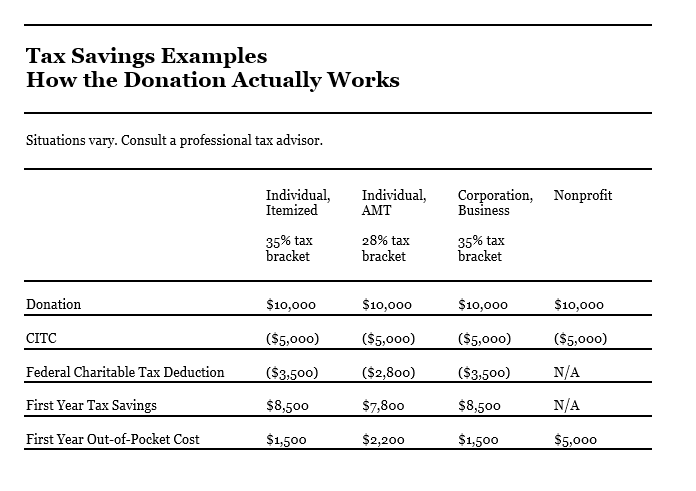 If you are interested in learning more, please contact Pam Hallett at (781)859-5211, or phallett@housingcorparlington.org
Secure Online Donations can be made here:

For additional reference information please view the links below:
 Community Investment Tax Credits: Donors Investing Over $1K in CDCs Realize Significant Tax Benefits – AAFCPAs (4/27/15)
State officials call new charitable giving tax credit program a success – Boston Globe (4/16/15)