CITC: A Win-Win for Everyone
The Community Investment Tax Credit (CITC) program rewards any donation of $1000 or more to a participating community development organization like HCA in Massachusetts with a 50% state refundable tax credit. For example, a $10,000 donation made by you generates $5,000 in state tax credit and the full donation can be claimed as a deduction on your Federal taxes. So, for a person in the 35% tax bracket, the actual out of pocket cost of a $10,000 donation is only about $1,500 because they get $5000 for taxes from CITC and $3,500 back as a charitable tax deduction. CITC is designed to make it easy for residents to give back to their communities, and in turn, ensure that there is affordable housing and economic opportunities in neighborhoods across Massachusetts.
As a designated Community Partner, HCA is a full participate in this program, therefore any donation of $1,000 or more to HCA will grant you with a 50% state refundable tax credit. Your donations to HCA allow us to fund new affordable housing developments, educate staff, and generally continue our diligent work.
CITC persists because it works. So far, it has raised over $49,000,000.00 for Massachusetts organizations since its conception and it continues to motivate donors to give back. Click here to hear Governor Charlie Baker and others discuss the program.
(CITC) was created by Chapter 238 of the Acts of 2012.The Commonwealth's Department of Housing and Community Development (DHCD) is the administering agency. CITC requirements are set forth in Chapter 62 Section 6M and Chapter 63 Section 38EE;760 CMR 68.00 and 830 CMR 62.6M.1.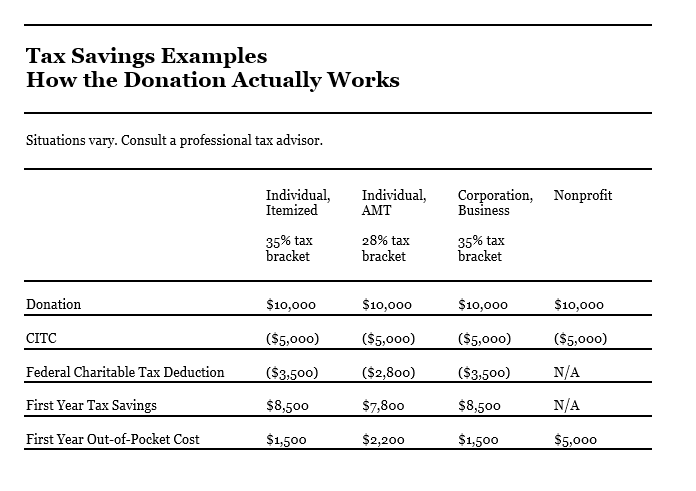 If you are interested in learning more, please contact Pam Hallett at (781)859-5211, or phallett@housingcorparlington.org
Secure Online Donations can be made here:

For additional reference information please view the links below:
 Community Investment Tax Credits: Donors Investing Over $1K in CDCs Realize Significant Tax Benefits – AAFCPAs (4/27/15)
State officials call new charitable giving tax credit program a success – Boston Globe (4/16/15)